Welcome, kindly check this out after reading!
Important things you must know
When will Jamb Change of institution begin for direct entry candidates and how do I change my course? This is what we shall discuss here. First, the portal has opened for direct entry candidates to do their change of course and School.
As a Jambite direct entry candidate, you may want to do a change of course or institution for reasons best known to you. The good news is that the Jamb portal is always open for you to change your details.
jamb change of course and institution portal

Jamb change of name

Jamb change of date of birth

Jamb change of gender

jamb change of course and institution portal  

jamb change of course 2020

jamb change of course 2020 closing date 

 jamb change of institution 2020

How can I change my institution in jamb 2020?
How To Do Jamb Change Of Institution/Course Of Choice For Jamb 2020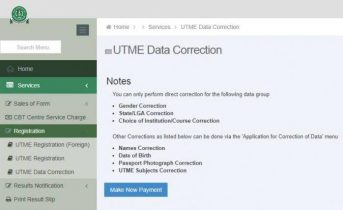 1. Log into your jamb profile
2. open the menu tab on your jamb profile
3. Click Register, under register a drop box will appear showing UTME correction of data
4. Click it and follow the steps to pay either online or bank.
You can make your payment online via JAMB portal. If you are having difficulties doing that, you can pay to the bank.
5. After paying N2500 at the bank plus additional bank charge of N100 naira, proceed to either the closest JAMB office or a JAMB accredited centre to complete the process. An additional fee will be charged for the service.
That's all… You are done with Jamb correction of details. After Jamb change of institution, wait a few days for the changes you made to take effect.
Recent posts
Latest posts by Innoswagzy Pera
(see all)